The Slow Cooker Advantage:
Dinner's Ready When You Get Home
By Brenda Kohlmyer

Nothing much beats opening the door on a cold blustery evening and smelling that dinner is ready. It's one of the things single people often miss simply because there's no one else to do the cooking.
Fortunately, there is one trick a single cook can pull to make sure dinner is ready after work...slow cooking, otherwise known as crock pot cooking. Throw a few ingredients in the crock pot before work, set it to low so it cooks all day and presto, dinner is ready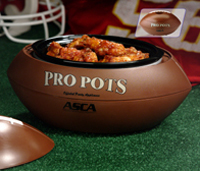 in 8 hours. Dinner cooked this way can also hold up to an hour or two more if traffic is bad or you have to pick the kids up at practice.
In the past, crock pots have been associated with big families. Matter of fact, they are still associated with big meals. The largest crock pots will hold 6-8 quarts, more than a gallon of chili or stew, and way too much for any single cook to deal with in a month. But, the companies that make these small appliances are beginning to cater to smaller crowds with slow cookers ranging from 1.5 qt. to 3 qt. capacities.
These smaller slow cookers are perfect for single cooks. First, they take up a lot less space in the cupboard. Second, they cook a lot less food, which means there are fewer leftovers. A 3 qt. crock will comfortably hold about 2 qts. of stew when it's full. That's enough for dinner one day and several containers of freezer meals. Fill it half way, and the slow cooker works just as well and there are fewer leftovers.
Small sized slow cookers are easiest to find online or at retailers such as Walmart, K-Mart and Target. You may also find them on the small appliance aisles at variety stores like Bartells, Rite-Aid and Walgreens.
Even if it takes a bit of searching, adding one of these little cookers to your kitchen is well worth the effort.
Brands to look for include:
Rival
Rival makes the grand-daddy of all slow cooker brands, Crock-Pot®. They sell a broad range of slow cookers, including several that have programmable temperature settings.
They also have the most small slow cookers of any manufacturer. There are five Crock-Pot® slow cookers with capacities ranging from 16 oz. for the Little DipperTM to a 3.5 qt oval cooker with removable crock.
Proctor-Silex
Proctor-Silex offers three small slow cookers ranging from 1.5 qt. to 3 qt. All three cookers have removable, dishwasher safe crocks with glass lids. The 2.5 qt. and 3.5 qt. models are oval rather than round, making them ideal for cooking small chickens or long roasts.
Select Brands
Select Brands makes two round slow cookers. These cookers have 1.5 qt. and 2.5 qt. crocks and are pretty traditional. The other two slow cookers you'll find at their site are 1.5 qt. novelty shapes. But what novelties... One is a football and the other is a basketball. What better way to serve up a warm snack for any game?